About Us
Sarra Global helps businesses fully realize the promise of technology – helping them maximize the value of the technology that they make, sell or use. Sarra Global enables business partners to operate more efficiently and successfully in the markets they serve.
SARRA GLOBAL SDN BHD formed in 2014 is an IT company, with the mission of delivering unparallel service and support in IT consulting in Malaysia market. We offer new concept of technology and solution for region and community for enterprise and entrepreneurs. 
Our business products include application/system development and management as well as strategic business solution, training in knowledge system, end-user computing, infrastructure and communication services.
Sarra Global breeds with a team of dedicated technical and management specialists and always been the passion for excellence that is the driving force for its innovation.  We offer the highest standard of services and development solutions available on the market today.
To be a leading regional IT company providing business and technology solutions.
Contribute ICT technology to the nation through our intellectual potential and skill.
To b

e a highly effective, lean and fast-moving organization.
Serving all our customers with integrity and fairness and with a view toward a long-term relationship

.

Provides services which will improve the way our customers work; resulting in increased efficiency and productivity.

To satisfy our customers' business needs and desires in such a way as to promote our own personal growth and development.

To work in an environment of trust, respect, and mutual cooperation with our suppliers and business partners.
SARRA GLOBAL BUSSINESS MODEL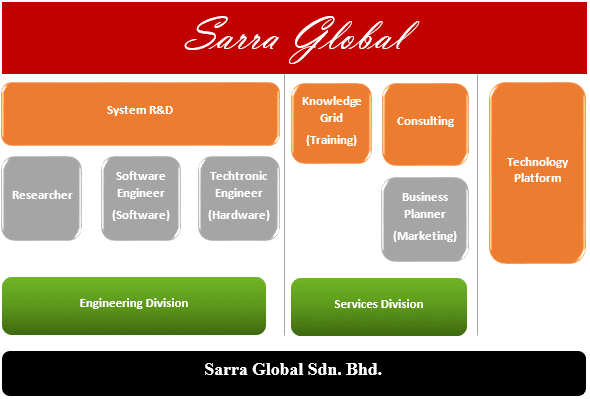 Sarra Global Sdn Bhd Technology Professional Services. Have questions about our services? Submit your question and we'll get back to you in a timely fashion.
21-1, Jalan Dagangan 15, Pusat Bandar Bertam Perdana, 13200 Kepala Batas, Pulau Pinang, Malaysia
Institut Perhutanan Tropika & Produk Hutan, Universiti Putra Malaysia, 43400 UPM Serdang, Selangor, Malaysia